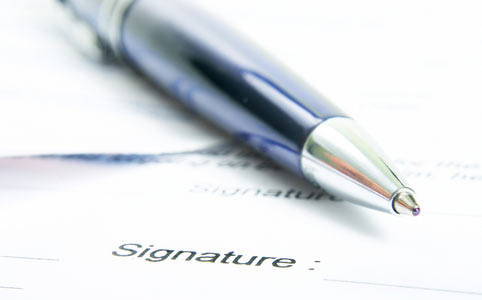 The pandemic brought significant changes both in the everyday and work lives of people: the use of home office became widespread, while communication is conducted through phone, emails and video conferences. Concurrently for official matters, such as signing contracts and doing banking administration, a person's signature and personal presence are often essential. According to Kapolyi Law Firm, the current situation will have a substantial impact on the spread of electronic signatures.
While restrictions imposed as a result of the coronavirus pandemic make it difficult to conduct official matters, they also highlight that it is necessary to consider how to facilitate the electronic signing of contracts and other written declarations. Kapolyi Law Firm emphasises that electronic signatures have several advantages: they are subject to the same laws throughout the EU and signatures made in any Member State are mandatorily recognized in other Member States. Documents signed electronically have the same probative value as a traditional signature and have the same effect as paper-based documents. According to Dr. Dániel Nagy, senior attorney at Kapolyi Law Firm, with the exception of a few sectors, the use of electronic signatures by the general population is limited and is currently not wide-spread in the corporate segment either. However, since 2016 Hungarian legislation provided for the possibility of signing various written legal documents electronically. According to the law, if a condition for the validity of a specific legal declaration is for it to be made in writing, this requirement is satisfied by doing so electronically, provided that the document is signed by the parties with an electronic signature with enhanced safety features. According to Dr. Dániel Nagy, there are four conditions for an electronic signature to be considered as having enhanced security features. One of the conditions is that the digital signature is linked exclusively and uniquely to the signatory person only. Secondly, it must be suitable for identification of the signatory. Thirdly it creates the signature in a way that only the signing person has access to the data required for creation. Additionally, it is linked to the signed data in a way that all subsequent changes made can be traced, and therefore the document cannot be modified or altered after its signing.
The spread of electronic signatures may also be facilitated through the issuing of new identification documents (e-IDs), which allow natural persons to access the benefits provided by e-signatures faster and easier than ever before. Dr. Dániel Nagy highlighted that if the e-ID has an electronic signature function, private and official documents may be signed electronically with a card reader, even at home. It is important to note that this option has not entirely replaced the work of companies providing authentication services, as functions belonging to e-IDs are limited in several respects. As such, it cannot be used for representing a company as an employee and it has a transaction limit (up to HUF 50 million). Therefore, the e-ID is suitable for electronic signatures if there is no need to provide information about the company or if it is not used to make a legal statement for practising employee rights. Overall, electronic signatures have several advantages and the necessary technical conditions are present. In the current pandemic situation, it may be an important tool for parties to sign a contract without any personal contact or to make a unilateral declaration electronically (such as a power of attorney or a unilateral termination of a contract).
https://kapolyi.com/wp-content/uploads/2020/05/aláírás.jpg
300
482
Kapolyi Iroda
https://kapolyi.com/wp-content/uploads/2019/05/kpeng-1.png
Kapolyi Iroda
2020-05-20 07:06:36
2020-05-20 07:06:36
The pandemic may accelerate the spread of electronic procedures in Hungary